"I am cute!!!"
Now this was a Christmas present I made. I was very eager to keep it for myself when it was done, but I gave it away in the end XD

Things you need:
- paper for a pattern
- fabric for the body and the dorsal fin (or whatever that is)
- yarn (don't use cotton! I did...)
- fuzzy wool for the gill rakers
- eyes
- stuffing

Basically I just made a pattern out of copy paper and newspapers based on some axolotl pictures I found.
I bought some really nice and fuzzy fake velours leather and used it for most of the plushie.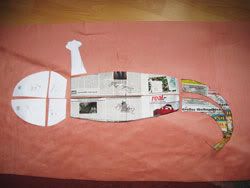 I bought cotton yarn, but that was not a good idea since it's not very tear-proof. I noticed that during the stuffing process. So maybe you better stick with synthetic yarn.

After cutting out all the pieces I made the gills from small fabric straps and added the gill rakers by attaching some fuzzy wool at the sides.

The rest is basically just thinking about in which order to sew the parts together.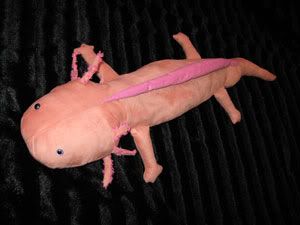 Axolotl picture taken from here.

Be sure to leave a hole through which you can stuff in the stuffing. I'm still not too good at that. Somehow it never becomes a really smooth stuffing, some parts are always crumbling together. Oh well...




Anyway, this is it!

You know you can never grow too old for plushies.