While strolling around in the hobby and art supplies store yesterday I discovered the joy and fun of décopatch. This is so much fun I could spend weeks doing nothing else right now. However, since I have no use for décopatched figures of cardboard animals, I decided to try it on something more helpful: storage space! Again.
I have several cardboard boxes and a drawer that I wanted to redecorate and this turned out to be a very easy and very fun way to do it.

What you need:
- cardboard box or drawer
- décopatch paper, scrapbook paper (you can also use napkins)
- adhesive lacquer (Klebstofflack): this is a special pre-mix of glue and lacquer for décopatching, it will glue your paper to the chosen surface and provide protection from scratches and water
- acrylic paint
- different brushes

The lacquer and papers can be purchased at idee, for example.


At first I applied several layers of acrylic paint onto the cardbox until it was well covered. I added a few drops of water so the paint was easier to apply, but that's optional. If you speed up the drying with a hair dryer, you'll be done quickly with this step.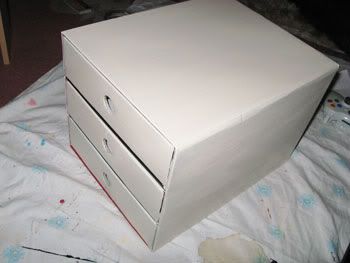 I bought three sheets of paper for this. Two décopatch sheets and one scrabook paper sheet with a motif on it for the front side of the drawer.

I made a template for the front side of one of the compartments with normal printing paper. Then I cut out three pieces from the motiv paper for the three compartments with that template, leaving little spaces between them for the gaps between the compartments. Now I applied a thin layer of the adhesive lacquer onto the front sides of the compartment, pressed the cut-out paper on it and applied another layer onto the paper.

(As a note: Don't try to completely paint a larger surface with the adhesive lacquer and then add paper because it dries rather fast. Do it step by step. Also, I noticed how bubbles will form underneath the paper when the lacquer is still wet. I tried to press them down, but sometimes they wouldn't disappear. However, after the lacquer dried the surface was completely smooth.)




This paper is from graphic45.

With the same technique I added stripes of décopatch paper to the sides of the drawer and a larger piece to the top.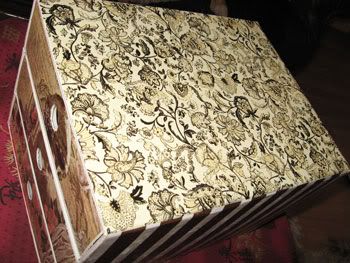 The layers of paint, lacquer and paper will give some additional stability to the cardboard boxes or drawers, so you don't have to buy the expensive boxes for décopatching. Mine wasn't very solid because it was only a folded cardbox drawer, but it did just fine.

There are billions of possibilities for this technique. Even if you just use it on boxes you can do really elaborate stuff with it, but I tried something simple for the beginning. I think I'll try it on my bathroom furniture sometime soon.