Letters are fun. I used to write a lot of them, now the number has decreased a little, but I still like to write and receive them. Also, I'm a sucker for beautiful notepaper. Naturally, when I read saraccino's
mail art post
, I felt like trying it for myself. Here are the results: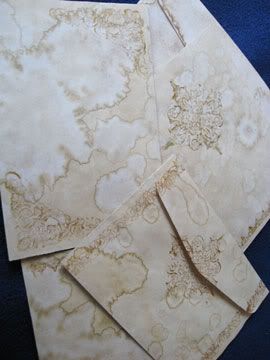 Here's what you need:

paper
mail envelopes
dye (watercolours, coffee, tea, acrylic colours... the possibilites are endless)
stamps
a hairdryer to speed up the process
a flat iron

I tried some experiments with water colours at first, colour gradients and stuff.




Afterwards I applied some golden acrylics with a sponge to get a shiny effect.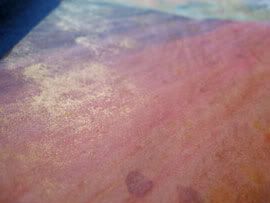 And it's okay, but you can tell I have never been very good friends with my paintbox. In addition, I'm more a fan of old-looking stuff. So I tried coffee to give the paper a yellowed and dirty look.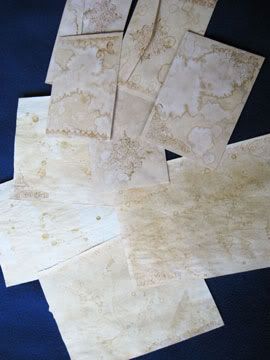 And I do like the results very much. I am sure you can use a variety of different colours in foodstuff and I'm probably going to experiment a bit with fruit tea next time.

At first I brushed the paper from both sides wih coffee (instant coffee works just as fine as real coffee) and blew it dry afterwards (with the hairdryer, obviously). Then I did it a second time to intensify the hue (the lighter papers in the back were drenched only once, the ones in the foreground twice).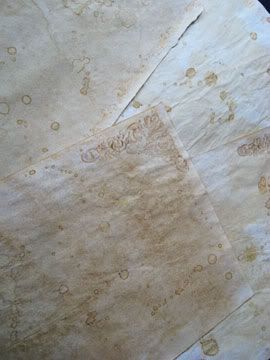 After drying them again, I started to sprinkle bigger and smaller drops of coffee on the paper. This time I had them dry naturally for some minutes up to half an hour (depending on the size of the drops) so the characteristic borders around the drops would develop. Then I dried the rest with the hairdryer and ironed the paper and envelops with the flat iron. I felt like it this step further intensified the colours of the coffee, but maybe I was just imagining things. Anyway, it gives you nice smooth paper to write on.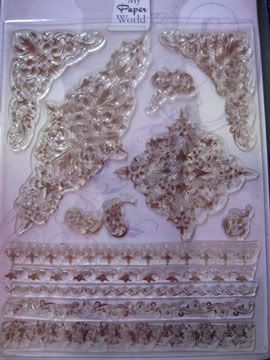 I used these silicon stamps and golden acrylic paint to decorate the paper and envelopes afterwards.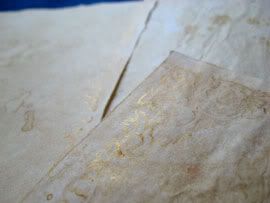 So in the end it's a rather simple design, but I think it's really pretty :'D