I store a lot of stuff in boxes because I lack proper storage space. However, I didn't have anything to store my hair stuff in. Originally I wanted to make a music box for that purpose, but I ended up making a box out of an old book. Yay!
Required:

a book (surprise!)
fabric
glue
water
ribbon
cardboard
tape tape tape

So, I bought this book in an antique shop.




I couldn't find much information on it except for the fact that there is a movie based on this novel. However, it had a personal dedication inside it. From 1924.




Touching.

The first thing you will have to do is to DESTROY THE BOOK. Probably the most exciting part for every bibliophilic soul with a hidden sadistic desire. Cut out the binding, carefully, with a sharp knife or a cutter. Make sure you don't hurt the back of the book.




Can you feel how it hurts?
No?
Well, try harder. Tear the pages into little pieces and use them for some layers of papier-mâché. You will need one part water and one part normal white fluid crafting-glue. Then just add some layers of paper and the water-glue-mix for some additional stability since especially the back of the book won't hold a bulimic crack whore after you've removed the binding.




Wait until it's dry (or speed up the process with your good friend, the hair dryer).

Here comes the "I had to improvise!"-part.
I made a little construction out of cardboard and cellotape for the sides of the box-to-be and attached it to the book with more cellotape. I also added the ribbons. With cellotape.




I once heard a saying that went something like this: "If you can't fix it with duck tape, you haven't used enough."

True.

That's why I used some pages from the book and masking tape to stabilise the construction a little more.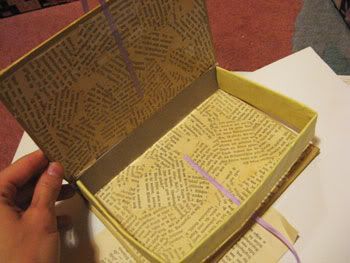 If anyone has a better idea for the sides of the box, please let me partake in your wisdom. I couldn't come up with something better in a trice.

After I had used enough whatever-tape, I cut out some fabric to coat the cardboard construction with. I pinned it together and sewed it by hand because it wouldn't fit under my sewing machine.




Then I cut out the fabrics for the inside of the book, sewed them together, trimmed the edges and glued them to the book with some strong glue.




Then I folded the edges of the fabric from the cardboard construction inside the box and glued them to the fabric on the base of the box.




And yeah... that's it. Whoohoo!




Book box.

Put stuff inside to make it happy.