This is my axolotl fishbowl!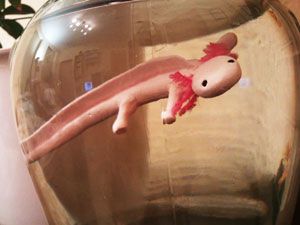 Actually, it is not mine anymore. It started out as a symbolic present for a character in a live role playing game and kept getting more elaborate in the process. In the end the effort was totally over the top, but I just had so much fun working on it :D


I had this reeeeally big jar from a job at a delikatessen shop and wanted to do something with it so bad.



So I made an axolotl out of fimo and baked it in the oven. The eyes are little pearls. Then I added several layers of water proof lacquer and attached some fuzzy wool on the head as gill rakers.




Then I added some decorative stones to the bottom of the jar and filled it with tap water.


Finally I just tied some transparent thread to the axolotl and attached it to the inside of the lid with adhesive tape.



Easy as pie!

You could add fake aquatic plants or other aquarium decoration to make the whole thing look even nicer. But it's really fast and chep project and it looks great :D And so cute!