Want to catch some cozy autumn feeling in a glass?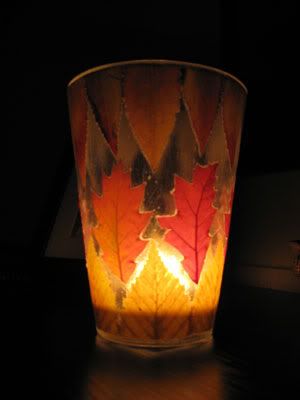 I have found this great idea on some crafting blog. Sadly I lost the link when my old laptop crashed and I couldn't find it again.

So today I took a walk through the beautiful autumn forests and collected some coloured leaves.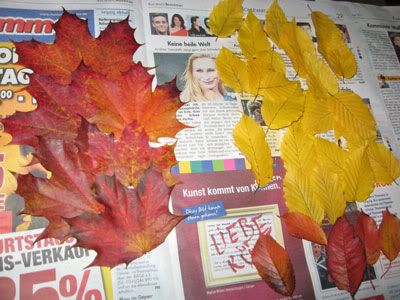 I really love those on the left because they are bi-coloured. Also, I noticed that you get the most beauitfully coloured leaves from very young trees.

Well then I took them home, washed and dried them, and started crafting.

I thought I could simply attach them to the glass with mod podge, but the surfaces really didn't work well together. Too smooth.

So first I applied a whole layer of mod podge to the glass and the leaves I wanted to use and let them dry. Then I applied another thin layer on the leaves and attached them to the glass, holding a hairdryer in my mouth, directed at the leaf, while I pressed it onto the glass with both hands. Must have looked hilarious.

It really was a rather tricky procedure. But I love the result.


I applied like two thick layers of the mod podge on top and probably will apply another one tomorrow. I just want to make sure everything it absolutely airtight and I hope this will prevent the colours from fading and the leaves from drying.



The glass on a mirror.


I think the yellow and red also make for a nice Christmas decoration.