If that doesn't sound tasty I really can't help you.
This week Yuni visited me and we made the most delicious cupcakes I ate so far. Everyone who tried them was quite delighted with the taste. They were simply awesome.
So, here is how we did it...
First of all, I didn't come up with the recipe myself. The recipe for the cupcakes is taken from here and the recipe for the frosting from here.
However, I made some minor changes to the recipes due to personal taste and shamefully ignored some of the steps in the instructions.
The cupcakes still turned out great, which either speaks for the great recipes or for my improvisation skills (*cough cough*).

Before we start, here is something that might be helpful:

1 cup = 8 ounces = 226g


Now let's start with the cupcakes.

The amount of batter should suffice for about 15 cupcakes, depending on how brave you are at filling the cupcake cups.


Chocolate Cupcakes
85g butter
230g sugar
230g flour
110g cocoa powder (sweet or bitter, as you like it)
170ml milk
1-2 eggs
1/2 tsp baking soda
1-2 tsp vanilla sugar
50g hazelnut brittle


1. Measure flour, baking soda, salt, cocoa powder, milk, hazelnut brittle and vanilla sugar in a bowl and beat to combine.
2. Beat butter until softened. Add sugar and beat until light and fluffy, about 3 minutes.
3. Add eggs, one at a time, beating 30 seconds after each addition.
4. Add a tablespoon of butter-mix to the bowl with the other ingredients and beat to combine. Repeat until all of the butter-mix is mixed with the rest.
5. Scoop batter into cupcake cups about 1/2 full.
6. Bake at 175°C for about 20-25 minutes or until a cake tester comes out clean.

Attention: If your cupcake cups are overfull, the batter will overrun and you will get some ugly deformed cupcakes. That's what happened with our first baking sheet. So be careful.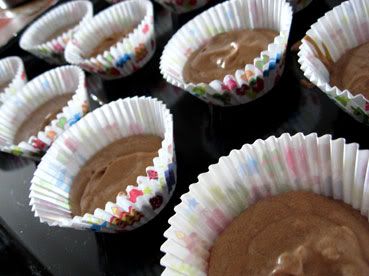 White Chocolate Cream Cheese Frosting
110g cream cheese (room temperature)
55g butter (room temperature)
30g white chocolate (melted)
1-2 tsp vanilla sugar
400-600g sieved confectioner's sugar

1. Cream together cream cheese, butter, white chocolate and vanilla sugar.
2. Add sieved confectioner's sugar until your frosting reaches the desired consistency (the stiffer you want it, the more confectioner's sugar you will have to add).
3. Fill into a piping bad and pipe onto cooled cupcakes.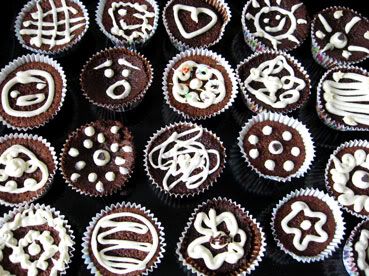 Bon appétit!