Sometimes I create things that simply turn out to look crappy when I'm done. I usually throw them away. This time I created something that didn't work. I decided to post it anyway because it still looks pretty, which makes it even worse because it's useless :/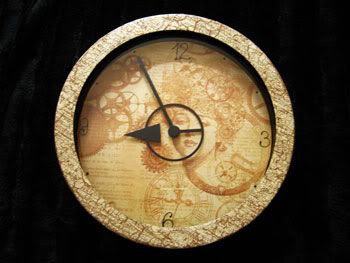 This was supposed to be a birthday gift for a friend, and it worked fine until I decided to disassemble it...

The watch was a giveaway, but it has a Quartz clockwork, so I thought it would be rather long-living.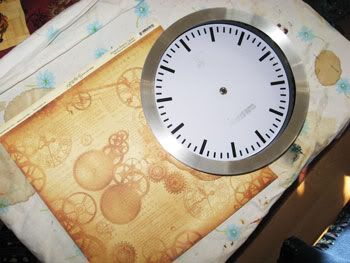 I bought some nice steampunk-themed paperr, took off the clockhand and started to decorate the watch. Really very easy, nothing elaborate. Afterwards I drew the 3, 6, 9 and 12 onto it.
Then I bought a new set of clockhands and added them.
I put the battery back in and that's where it stopped working.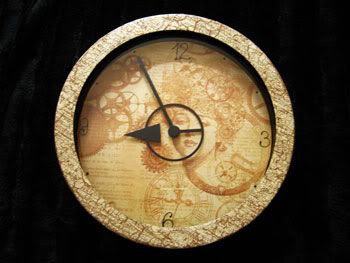 I don't know what went wrong, it worked perfectly before that. Maybe some of the glue got into the clockwork but I don't think that's possible. Anyway, it's broken and makes for nothing more than decoration now.


Well, I guess things like that just happen.
I eventually decided to hang it on my wall anyway since it's too pretty to gather dust in some corner :D Also, it goes well with my Mucha posters.